(ESPN Chicago) Northwestern RB was that close to not returning for team's Cinderella season in 1995.  Many would agree Northwestern's magical 1995 season likely doesn't happen without running back Darnell Autry.

Where would Wildcats be without Autry?
Many would agree Northwestern's magical 1995 season likely doesn't happen without running back Darnell Autry.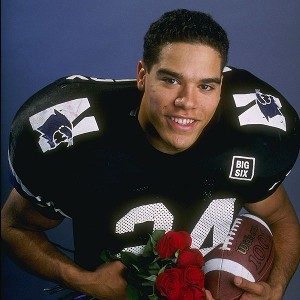 He was the one who held onto the ball and moved the chains in the final minutes allowing the Wildcats to upset Notre Dame. He rolled through nearly every Big Ten opponent with unforgettable rushing performances. He picked up 226 yards late in the season against Purdue. He broke school records with his 1,675 rushing yards and 14 touchdowns on the season.
It all led to Northwestern reaching the Rose Bowl and Autry finishing fourth in the Heisman Trophy voting.
But what if Autry never played for Northwestern in 1995? What if he had packed his bags and transferred after his freshman season? What would have happened to him? What would have happened to Northwestern?
They likely aren't questions Northwestern or Autry would like to ponder, but there was a time when they could have been looking for the answers just the same.
Autry said he couldn't stand Evanston, Ill., by the winter of his freshman year in 1994. Coming from Arizona, he wasn't accustomed to the Midwest's weather. The freezing temperatures and snow weren't fun novelties to him. He just simply hated them, and he desired to be back home where it was warm.
"This is terrible," Autry remembered thinking. "I'm freezing to death. I don't have the right clothes. It's nice in Phoenix. I miss my mom and dad. I miss all my little girlfriends. It's the same thing that plagues all freshmen."
While a lot of freshmen get homesick, most don't come as close to the brink of leaving as Autry did. He went as far as packing up his belongings, taking them home with him during Northwestern's winter break and beginning to look at other football options. Arizona State was the likely destination.
"I said, 'I'm done,'" Autry recalled.
Northwestern coach Gary Barnett understandably got nervous. He was about to lose his star running back. Barnett flew down to Phoenix and met with Autry and his parents.
"He said, 'Give us a year,'" Autry said. "'If you don't like it in a year, we'll release you from scholarship and you can transfer.'"
The meaning of "a year" was different to Barnett and Autry. Barnett thought 365 days. Autry thought like the end of 1994, which was less than a month away. Autry was under the belief he had a few weeks to make his decision.
During those weeks, Autry did some soul searching. He was only 19 years old, but he realized his decision could impact his entire future.
"It was not good for me," Autry said. "I was trying to figure out what I wanted to do next. I'm really on the verge of alternating my life permanently and negatively. What am I doing with my life? Is this really what I want to do to my life?"
Ultimately, Autry realized he needed to return to Northwestern and stick it out.
And when he came back, he was a different Darnell Autry. He was an angry Darnell Autry.
Northwestern wasn't the dream school he had hoped for, but he was going to stick by his decision just the same. So instead of pouting over the weather and dreaming of Arizona, Autry channeled his frustration to the football field.
As it worked out, Autry's desire to leave Northwestern actually made him better for Northwestern.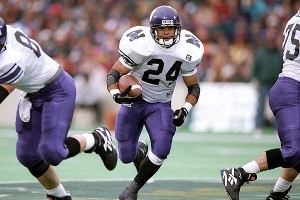 "I obviously came back a little bent out of shape and pissed," Autry said. "That fire and anger spurred on my offseason training. I was going to get faster. I was going to get bigger. I thought if I'm going to be here, I'm going to beat everyone in lifting, beat everyone in sprinting."
What followed is well documented.
In the 1995 season opener, Autry and the Wildcats went in to South Bend as 28-point underdogs against Notre Dame and came out victors. Autry rushed for 160 yards on 33 carries in the 17-15 decision.
Northwestern suffered a major letdown the following week with a loss to Miami of Ohio, but the Wildcats rebounded in Week 3 and carried that momentum throughout the rest of the season. They won nine consecutive games, including seven Big Ten contests, and captured the conference title.
With each victory, the team's publicity grew in the Chicago area and around the country. Following Northwestern's win over Penn State, Autry graced the Nov. 13, 1995, cover of Sports Illustrated under the headline, "The Real Deal."
Autry was named a finalist for the Heisman Trophy and invited to the award presentation at the Downtown Athletic Club in Manhattan in December. His parents joined him in New York City.
Autry was unsure of his chances of winning.
"I remember being happy to be there," Autry said. "I didn't know who was voting. I didn't know how it worked. My supporters were saying I could win it. I was just happy to be there. I was happy to be among the top five players in the country. I appreciated being there."
Ohio State running back Eddie George would take home the bronze Heisman trophy with 1,460 voting points. Autry finished fourth, behind Nebraska quarterback Tommie Frazier and Florida QB Danny Wuerffel and just ahead of Iowa State running back Troy Davis. Autry received 87 first-place points and 535 total points.
The '95 season ended with a 41-32 loss to USC in the Rose Bowl.
Autry followed his sensational sophomore season with an impressive junior season in 1996, which culminated with the Wildcats being co-champions of Big Ten Conference and invited to the Florida Citrus Bowl. Northwestern lost 48-28 to Peyton Manning and Tennessee in the bowl game, Autry finished seventh in the Heisman voting.
With Autry's stock soaring, he opted to forgo his senior season at Northwestern and enter the 1997 NFL draft. He was taken by the Chicago Bears in the fourth round.
His NFL career was short, but not sweet.
Autry played one season in Chicago before being cut prior to the 1998 season. He got picked up by the Philadelphia Eagles at that point, but instead he retired from football to pursue an acting career. He then gave up acting in 2000 to give football another try. He played one season in Philadelphia and was cut in 2001. He wouldn't play pro ball again.
Autry knows exactly where it went wrong.
"When you take it to the next level, you, yourself, have to be willing to push yourself to the next level," Autry said. "I don't think I had any expectations of taking my career and pushing myself beyond where I was. If I had done that, I may still be playing. I didn't do that."
And if he could do it all over again, Autry said he would have stayed at Northwestern for his senior season.
"I do regret leaving because that was one of the most selfish decisions I've ever made in my life," Autry said. "The decision was made about me and not the team. I wish I would have graduated with my teammates like I should have. I regret that."
"I would have stayed for them. I would have stayed for another Big Ten championship," he said about his the team he left. "I wouldn't have stayed to improve my draft place. I didn't care about that."
Following his playing days Autry returned to Northwestern and earned his degree. He has since bounced around the country trying various occupations. Now 35, Autry lives in Arizona, where he hosts the Internet show "Outside the Spotlight" on VoiceAmerica.com and is putting together a production company.
When summing up Northwestern's 1995 season, Autry doesn't reminisce about the SI cover, his individual glories or the Heisman Trophy ceremony. What Autry will always remember is was how the team defied its individual abilities with teamwork.
"On paper, we don't like look like much," Autry said. "If you look at us size-wise, individually, we didn't have any five-star athletes. On the field, we were completely a different animal. We were completely a team. We were the ultimate team."
And Autry was a catalyst for its success.
Scott Powers covers high school and college sports for ESPNChicago.com and can be reached
at spowers@espnchicago.com.